Hotel Venues Samui Summer Jazz ​
Opening night  |  W Koh Samui  |  18:00 
Round Midnight Orchestra
New York Round Midnight is one of the hottest jazz productions of the moment in which you will experience the exciting nightlife in the renowned clubs around Broadway, New York, in the golden era of jazz. A group of exquisite musiciansfrom the cream of the Dutch jazz scene will take you back to the heyday of jazz, a vibrant world full of thrilling music and compelling stories about love, desire, joy and despair. With this magnificent theatre show you can enjoy some hard-swinging jazz classics, meet the historical jazz figures who brought them into being and feelhow vivid and urgent this music still is for today.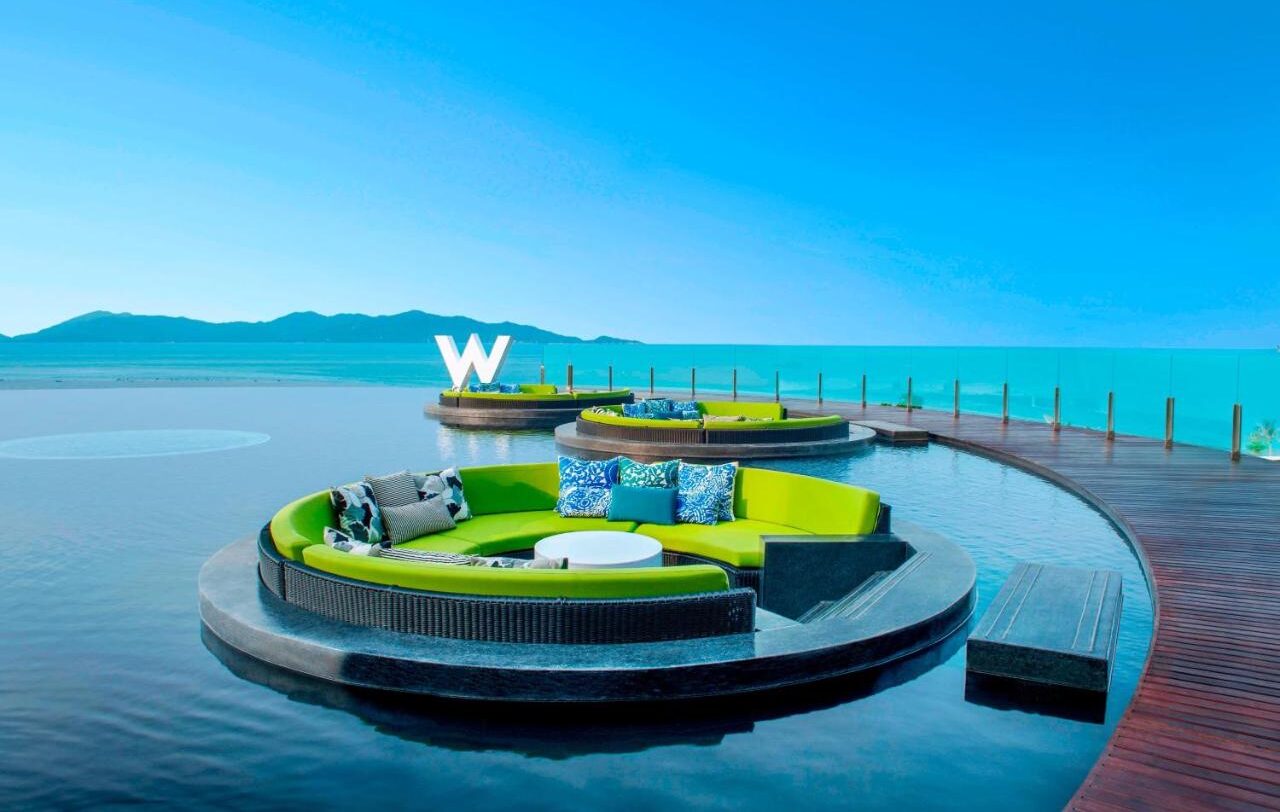 U Samui www.usamui.com | 20:00 | Paul van Kessel 
𝐒𝐮𝐦𝐦𝐞𝐫 𝐉𝐚𝐳𝐳 𝐏𝐚𝐜𝐤𝐚𝐠𝐞 at U Samui:
• 3-Night Package starting at THB 10,397
• 5-Night Package starting at THB 17,295
𝐏𝐚𝐜𝐤𝐚𝐠𝐞𝐬 𝐢𝐧𝐜𝐥𝐮𝐝𝐞:
• Daily Breakfast Whenever Wherever for 2 persons
• THB 500 or 1,000 F&B credit to spend at HIWA KAI Kitchen & Bar (credit amount depends on chosen room type)
• One-way airport transfer (available to the 5-Night Package only)
𝐎𝐩𝐭𝐢𝐨𝐧𝐚𝐥 𝐀𝐝𝐝-𝐎𝐧𝐬 (Available for 8 June 2022 only)
• Jazz BBQ Dinner at THB 1,500 per person
• Jazz Beverage Package at THB 1,000 per person
*The above add-ons include the Samui Summer Jazz concert ticket for the 8 June concert held at U Samui
> Book:  Now – 13 June 2022
> Stay: 4 – 13 June 2022
For more information or reservations, please call +66 77 238 828, +66 61 175 9482, email reserve@usamui.com | www.usamui.com
Seen Beach Club https://www.seenbeachclubsamui.com/
Saskia Laroo was hailed by American public and press at large as "Lady Miles of Europe". She is one of the few women trumpet stylists and a delight on the music scene for almost four decades. Born in Amsterdam, it began for her on trumpet at age 8, never dreaming herself becoming a professional musician. That all changed when Saskia, turned 18, after briefly majoring in Mathematics at University of Amsterdam switched her focus to a career in music. She worked extensively in various groups from this point, primarily on upright bass, though eventually, on both bass and trumpet. Saskia Laroo combines today's music by uncontrived romps into new styles, eagerly limned as "nu jazz" or "swingin' body-music"–a vivacious blend of hip-hop, jazz, salsa, funk reggae, and world, that a select few others would dare venture. Her artistry and her groove ring vibrantly and free on her eight CD albums, a LP and a DVD, journeying us through all the music she has absorbed, played with heart and soul.
Deborah Carter ft. Ben van den Dungen Quartet | start time 20:00
Ben has been performing as a jazz musician since 1983, but his professional career took off two years later, when he won the prestigious NOS Jazz award 1985. Ben has performed with numerous ensembles and over the years he did around 6000 concerts in about 70 countries. To name some of the bands: Ben van den Dungen/ Jarmo Hoogendijk 5 tet, Nueva Manteca, Tango Extremo, New York Round Midnight Orchestra.
Vocalist Deborah J. Carter was born in the U.S.A. and grew up in Hawaii and Japan. She travels extensively performing in jazz festivals, jazz clubs, seminars, and radio and TV shows through Europe and Asia with her trio or as a guest with various formations from solo pianists to large orchestras.
Deborah is also currently the Professor of Jazz Vocals at the Musikene Music Conservatory in San Sebastian, Spain. This prestigious school, in the Basque region of Spain, was founded in 2001 by the Basque Government through the establishment of a private foundation
This vocalist / composer / arranger definitely brings her multi – cultural experiences into her music. "We are so privileged in this day and age to have an open door to other cultures and perspectives that enrich our own." And she brings it to light through her style. Described by the Music Maker magazine as "absolutely top-class", she is one of the most dynamic vocalists in the jazz scene.
Alexander Beets Quintet & Koh Mr Saxman |  start time 20:00
Melia Koh Samui Bruch Grand finale feat Nathalie Schaap & Koh Mr Saxman start time 12:00

Melia Koh Samui
https://www.melia.com/en/hotels/thailand/koh-samui/melia-koh-samui/index.htm
STAY: 3 nights package:
Deluxe Room : THB 9,999 nett
Premium Pool Access : THB 13,333 nett
The Level Boat Suite: THB 17,777 nett
The above rates include :
Daily Breakfast
Complimentary Round Trip Airport Transfers
15% discount on FnB
15% discount on Spa
All applicable taxes
Nathalie Schaap made a great impression on her final exam at the Conservatory. Her virtuous combination of singing and playing the double bass did not stay unnoticed for long. Nathalie won several prizes, during the Christina Jazz Concours, de 'Vriendenprijs' from Artez Conservatory, a finalist place at the Conservatory Talent Award during Jazz in Duketown. Nathalie is actively working on her own projects, Cousin Hatfield, and the Medan Trio. Next to her own projects, she work(ed)s with Douwe Bob, Bertolf, Tangarine, and many more.